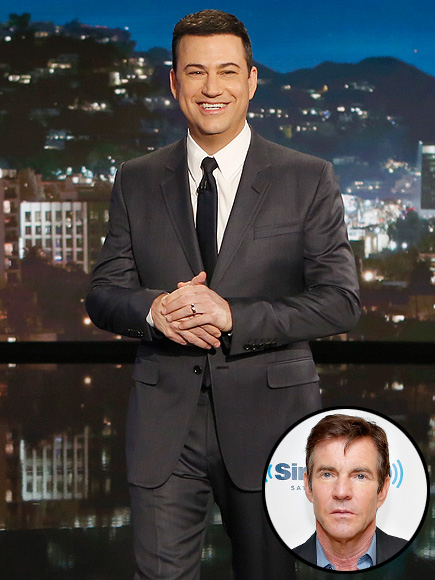 RANDY HOLMES/ABC/GETTY; INSET: CINDY ORD/GETTY
04/15/2015 AT 07:40 AM EDT
@jandriakos
He's the king of pranksters, but Jimmy Kimmel may not be behind a certain video sweeping the Web.
The late-night talk show host, 47, addressed the clip uploaded to YouTube of Dennis Quaid, 61, that caught the actor having an angry outburst on a movie set, amid fan speculation that it was a stunt for
Jimmy Kimmel Live!
"When I woke up this morning, I was being blamed for it," the comedian said during his Tuesday night episode.
"I have to say, it's disappointing. You play, like, 50 pranks and all of a sudden people don't trust you anymore," he said with a laugh – although he never outright denied his involvement.
Keep up with your favorite celebs in the pages of PEOPLE Magazine by subscribing now.
And although the reason for the
Rookie
star's angry eruption remains a mystery, Kimmel provided his own theory about why Quaid was screaming at his colleagues while supposedly filming a movie.
"Did anyone ever consider that maybe Dennis was doing voice-over for a new cartoon?" Kimmel asked the audience.
He then aired a clip of the animated Daffy Duck making hand gestures with Quaid's fiery lecture as the voice-over.
While a rep for Quaid has not yet responded to PEOPLE's request for comment, a spokesperson for Mythology Entertainment – the production company behind his recent film project,
Truth
– told TheWrap that it did not take place on the set of their movie, which finished production last year.